Description
CORNEAL ULCERS: THE SIMPLE, THE STUBBORN, AND THE COMPLICATED
Elizabeth A. Giuliano, DVM, MS, DACVO
Professor, MU College of Veterinary Medicine
University of Missouri,
Columbia, MO, U.S.A.
Corneal ulcers are a common ophthalmic condition presenting to the small animal practitioner. They may be classified as "simple and uncomplicated" or "complicated/emergent". There is also a special type of ulcer (e.g. SCCED) which are notoriously difficult to heal. This lecture will discuss appropriate diagnosis and treatment strategies for various ulcer types.
Dr. Giuliano received a Bachelor of Science with honors from Cornell
University in Ithaca, New York in 1991 and her DVM degree from the University
of Wisconsin-Madison in 1996. Following graduation from veterinary school, she
completed a small animal rotating internship at the Animal Medical Center in New
York City in 1997 and remained in private practice in midtown Manhattan the
following year. In 1998, she returned to the University of Wisconsin-Madison to
complete a Comparative Ocular Pathology Fellowship. Since July 1, 1999, Dr.
Giuliano has been a member of the College of Veterinary Medicine at the
University of Missouri where she completed a residency in veterinary
ophthalmology and a Masters of Science degree. She is currently a tenured
Professor of the department of Veterinary Medicine and Surgery at the University
of Missouri and Section Chief of their comparative ophthalmology service. She
has authored over 80 articles and text book chapters. Dr. Giuliano is a dynamic,
engaging speaker and has lectured extensively in the academic setting and at
national and international meetings. She is the recipient of numerous teaching
awards, including two Golden Aesculapius Teaching Awards, the Gold Chalk
Award, the Dadd Award, and was Western Veterinary Conference's "Educator of
the Year" in 2018. In 2011, she was elected to the American College of
Veterinary Ophthalmologists (ACVO) Board of Regents and served as the ACVO
President from 2015-2016.
---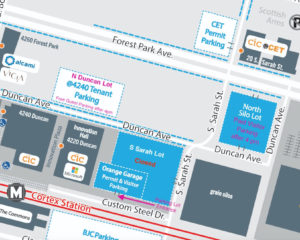 1. The meeting is being held at Innovation Hall (
4220 Duncan Ave #101, St. Louis, MO 63110
). Please park in the orange visitor garage. Guests who park in that garage will receive parking validation to cover the costs, so please bring any parking tickets into the meeting space. Otherwise you will be charged for parking.
---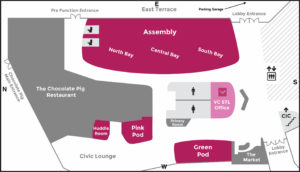 2. Guests will enter the building through the pre-function entrance off of the Innovation Hall Terrace. They will access this via the sidewalk that leads from the parking lot to the building, then take a right and cross the terrace (the door is in the middle of the building and has the Chocolate Pig restaurant logo on it). The main Lobby doors (to the south of this entrance) of the building will be locked, so guests will not be able to enter the space through the building lobby.