SUNDAY, OCTOBER 7, 2018
TECHNICIAN SYMPOSIUM
Location:
Holiday Inn
10709 Watson Road
St. Louis, MO 63127
Topics & Speakers:
Please RSVP by October 1st, 2018 to Trace' Schniers.
Please include your full name and hospital.
Please note that this event is for technicians only, and space is limited.
---
SATURDAY, OCTOBER 14, 2018
MVTA FALL CE CONFERENCE
Location: Maryland Heights Humane Society
Time: 7am – 2:30pm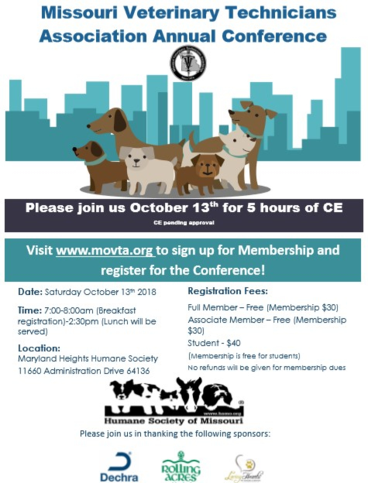 Location:
White River Conference Center
600 West Sunshine
Springfield, MO
Date: Saturday, October 13, 2018
Time: 7am – 2:30pm
CE Hours: 5
Fees:
Full member: Free
Associate members: Free
Student members: $40
(Membership is free for students)
Lodging:
Microtel Springfield
3125 North Kentwood Avenue
Springfield, MO 65803
Call 877-361-2512 for reservations
The MVTA has a room block reserved under the group name "MO Vet Technician."
Single Queen: $63/night, Double Queen: $73/night
Visit www.movta.org for full details.